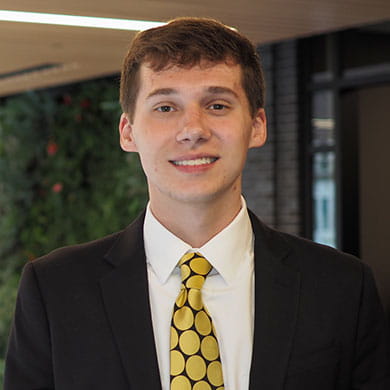 Logan
Rindock
Branch Intern
Logan recently joined our team as the Branch Intern where he's performing various tasks as they come along to help out Kelly and Christy. He is also taking time to learn all the systems that are used at Raymond James, along with the proper ways to deal with the various accounts that our clients hold. Eventually, he has a goal of becoming a fully licensed Financial Advisor.
Logan is currently going into his senior year at Muhlenberg College and will be graduating in the Spring of 2023 with a Bachelor's Degree. He is majoring in Finance and minoring in Business Administration. Logan has been named to the Dean's List on multiple occasions at Muhlenberg while also playing on the basketball team at school. He was also named to the Centennial Conference Academic Honor Roll 2 times.
Logan was born in Allentown PA and has lived there for his entire life. He graduated from Parkland High School in 2019. In his free time, Logan can be found playing basketball, watching sports, hanging out with friends, family, or his dog Luka, playing videogames, helping his dad in the yard, or contributing to his unhealthy addiction to sneakers.
Although Logan is still a student, he has a strong word of advice which reads, "Although time is your best asset in the market, it's never too late to start investing your money. Everyone wants to be financially free, but it takes very much discipline and a plan to achieve it."