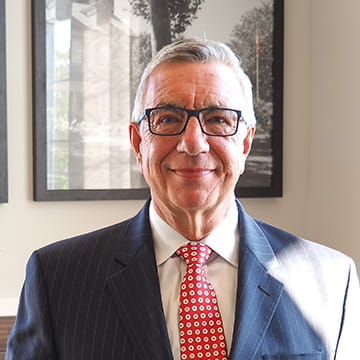 Larry Robert McLean
First Vice President, Investments
In his financial industry tenure Larry has a wide range of experience, guiding clients through virtually every market cycle and financial environment. He had always aspired to become a financial advisor and is now proud to have over 40 years of experience in the field. He strives to educate his clients and teach them discipline in investing and why compounding interest is vital. Larry believes that "time, not timing" is what matters most and uses these principles as core tenets to his investment philosophy.
Before his career in financial planning, Larry attended Kutztown State University and graduated with a Bachelor of Arts in liberal arts and sciences. He also took advanced courses in organic chemistry at Georgia State University. In 2012, he attended The Wharton School, University of Pennsylvania, where he studied financial planning.
Prior to joining Raymond James, Larry worked at Phillips Petroleum Company as the regional sales manager in Atlanta, Georgia. He then worked as the commodity specialist at Merrill Lynch before working at E.F. Hutton and Co. and Janney Montgomery Scott as a financial advisor.
Like the rest of his team, Larry is involved in several local organizations. He is an active consultant for the LifePath Foundation and has served as a board member for six years and a foundation member for three years. He currently is involved with the Kutztown University Alumni Committee Foundation. He has a long history of serving on several financial committees, for the Girl Scouts as well as foundations, charities and churches in his area. In the past, Larry has appeared on local television and in a newspaper column about investing.
Larry's hobbies include boating on the Chesapeake Bay. He also enjoys playing tennis and hiking in the parkway with his wife, Patty, and their two dogs. He loves having fun with their newest grandson and their 12 grandchildren.
To learn more about an organization Larry is a part of, click the link below:
Life Path
Raymond James & Associates, Inc. is not affiliated with the above independent organizations. Links are being provided for information purposes only. Raymond James is not affiliated with and does not endorse, authorize, or sponsor any of the listed websites or their respective sponsors. Raymond James is not responsible for the content of any website or the collection or use of information regarding any website's users and/or members.