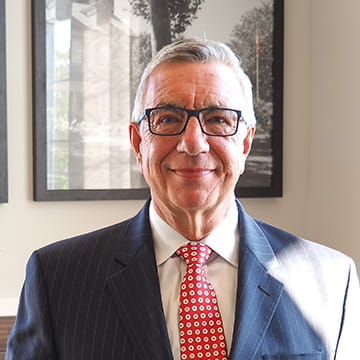 Larry Robert McLean
Retired
Retired December 31, 2022 -
Larry retired at the end of 2022 as our team's First Vice President of Investments after a fulfilling 47-years of serving clients as their financial advisor.
Larry has always strived to educate his clients and teach them discipline in investing and why compounding interest is vital as he believes that "time, not timing" is what is most important for investors. Additionally, Larry has been fortunate enough to be able to call his clients his friends. He is humbled to have been able to share memories and watch their families grow and thrive together.
Before his career in financial planning, Larry attended Kutztown State University and graduated with a Bachelor of Arts in liberal arts and sciences. He also took courses in organic chemistry at Georgia State University and in 2012 attended the Wharton School, University of Pennsylvania, to study financial planning.
Larry had previously worked several other positions prior to Raymond James, including the regional sales manager at Phillips Petroleum Company, commodity specialist at Merrill Lynch, and financial advisor at E.F. Hutton and Co. and Janney Montgomery Scott.
He has dedicated much of his time giving back to the community by being involved in several local organizations. He is an active consultant for the LifePath Foundation and has served as a board member and foundation member for numerous years. Other organizations Larry takes part in are the Kutztown Alumni Committee Foundation, the Girl Scouts, and local charities and churches.
Larry will spend his time in retirement pursuing his interests in gardening, woodworking, reading, and especially spending time with his 12 grandchildren. Although it is bittersweet to retire and leave his clients, Larry is glad to be leaving everyone in the safe hands and professional guidance of the team here at Raymond James.
Raymond James & Associates, Inc. is not affiliated with the above independent organizations. Links are being provided for information purposes only. Raymond James is not affiliated with and does not endorse, authorize, or sponsor any of the listed websites or their respective sponsors. Raymond James is not responsible for the content of any website or the collection or use of information regarding any website's users and/or members.