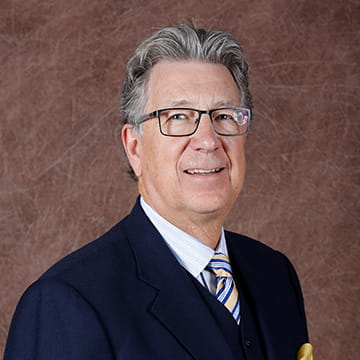 James
E.
McLean,
WMS
Senior Vice President, Investments
Throughout his more than 33 years in the financial services industry, Jim has experienced virtually every market cycle and financial environment, greatly enhancing his ability to put short-term market volatility in perspective for his clients.
Helping people take control of their financial future is one of his most important priorities. Jim is one of Steel Valley Wealth Strategies two founding members – a responsibility that includes keeping his team focused on its main objectives of evaluating clients' financial needs and providing sound financial guidance.
Jim does not believe in a one-size-fits-all method of investing. Together with his daughter, Kelly, he focuses on tailoring long-term investment strategies to each client. "In my experience, I have learned that diversification and a long-term perspective are two key ingredients," said Jim.
He mandates all members of his team to have extensive continuing education to help ensure that each client is receiving the best service available. To set the example, Jim obtained the designation of Wealth Management Specialist in 2009.
Jim is committed to serving his community, as well. In addition to being a Vietnam veteran, he has served as president of the Slatington Rotary Club and board president of Easton Salvation Army. Currently, he serves on the Da Vinci Science Center Board of Trustees and is a member of its Leonardo Society. He and his wife, Irene, are avid supporters of the American Lung Association of Pennsylvania, the Lehigh Valley Center for Independent Living and the North Wales Area Library.
Originally from Bristolville, Ohio, Jim holds a degree in business administration from Ohio's Ashland University. He and Irene currently reside in Center Valley, and Jim enjoys golf, reading and traveling with his family.
Access the link below to read an article announcing Jim's appointment to vice chair of the Da Vinci Science Center.
To learn more about the organizations Jim is a part of, please click on the following links:
Diversification does not ensure a profit or protect against a loss. No investment strategy can guarantee success.
Raymond James & Associates, Inc. is not affiliated with the above independent organizations.